Some infos about the American Gothic DVD Set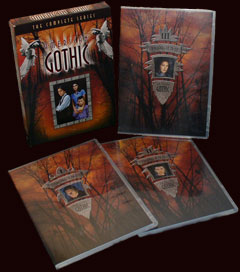 Yes! Hooray and thanks - American Gothic made it on DVD, roughly ten years after it aired. Now fans can re-watch the show as it pleases them ...
If you haven't gotten one yourself - just click on the image on the right and it will take you to amazon.com where you can order the complete series.
And doesn't the set look nice? For a more detailed look and description, just click on the DVD package link on the left.
The Set contains all 22 episodes, for some deleted or extended scenes have been dug up, there are audio commentaries and English and Spanish subtitles.
But as nice as it looks and as much it bugs me that the episodes aren't in chronological order!
What good is a play all button if you have to change DVDs over a dozen times in order to watch the show in the right order of events? It's bad enough the show was aired in the wrong order, but that is certainly no reason to put them in broadcasting order rather than storyline order on the DVD!
After taking a look at the short summaries for the episodes on the package and the ones on the dvd menues it becomes very obvious that little care was put into making this dvd set.
Although I am grateful for this set, I hope one day a better set will be released ... it probably will not happen, but one can always hope!